My memories of the Janet Cramm Award ...
Tom aged 12 - This year I attended the Janet Cram Awards for the first time. I was extr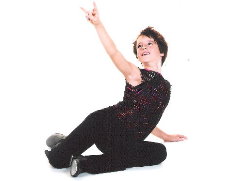 emely nervous but in the end, amazingly I got through to the finals. I was even more nervous in the final because there isn't any set work, only free work. There were 23 people in the finals and we were all terrified. We started with a warm up and then the free work began. It felt like it went on forever! I was so relieved when it was finally finished. After that we had to perform our dances. When everybody was finished we had to wait for ages for the adjudicators to decide who the winners were. Finally they made a decision and amazingly I won the Outstanding Dance Award! I was so surprised when they said my number that at first I didn't realise they meant me! It was a wonderful experience and I am very proud of my achievement and grateful to my teachers for training me and giving me the confidence to compete on such a huge occasion.
Amelia age 11 - On Sunday 24th May 2009, I danced at the Janet Cram Finals in London wi
th Charlotte, Phoebe and Tom. We were all very excited and a little bit nervous.The first part of the competition was completely unset so we had to listen really carefully to get the steps right. I was number 12. I could feel Mrs Patching and Miss Vicky watching my every move, and I was determined not to mess up. The judges were really nice and smiled alot to help us relax.To finish we had to perform our solos, and a photographer took pictures of us while we danced.I felt really small on my own, in such a big hall with everybody watching me.I had a fantastic day and I thought that all the other children were really good. My favourite part was marching around the room to some funky music while the audience clapped. I wanted to giggle but I knew that this would make Mrs Patching frown.I was really surprised when I was announced runner-up. I won a trophy and £20.00. It was a really brilliant day and an experience that I will never forget. Thank you Mrs Patching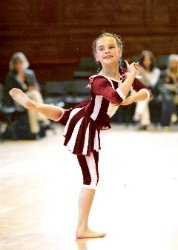 Emily age 9 - 'It all started the night before.We all went out for dinner with Mrs Patching who gave us a teddy for good luck & I called mine Janet. The next morning we went to Millies room to have our hair done & start warming up. I was really excited & wanted to get going. As I was warming up, the seam in my costume split! Luckily, my mum had some thread & stitched it back quickly in the hotel lobby & in the car! At last we could begin. I was no.2. We had to do our modern dance at the end of the classwork & set work. I was so proud to be up there & loved every minute of it. At the end they announced the results, & I was so happy I could burst that I'd qualified. It was brilliant & I would love to do it again!'
Millie age 10 - 'After warming up, we had to go to the changing rooms. "First Section", a lady called. Now I felt like I was going to be sick. The music played & we had to walk around the room smiling. All the audience clapped along. One thing we had to do was our combination step. Our song was "Do Your Thing". We did it together, one at a time & in pairs. Later, for the modern solo, the lady called "number 24", that was me. I was really scared but excited at the same time. My music started, 'A Star is Born', & I smiled, did all my faces & got through it. At the end, the judge called out eight numbers - "Twenty Four" she called! I was about to faint, I was so happy.'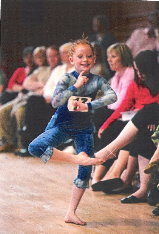 Amelia age 9 - 'I went with my friends to take part in the heats of the Janet Cramm Awards. We stayed the night before in a travelodge, so it was lots of fun. We arrived about 1/2 hour before it started, so Mrs Patching could warm us up. I really enjoyed the whole day because I was with three of my best friends & we could all be excited together. The class was not difficult because we had lots of training to prepare us for it. I felt very proud when we all got through to the final!'
Charlotte age 9 - 'We had to line up in order and I was no. 8. When we were waiting, I got butterflies in my tummy. I felt most nervous when we learnt some unset work, because I was scared that I would forget the steps, but luckily I didn't!! When it was my turn, I danced as best I could. I didn't feel nervous any more. Then all my friends danced. Later, we went on for the results. First the judge called out no.2 (Emily), then no.8, which was my number. Then they said no. 17 (Amelia), and last of all they said no. 24, which was Millies! I felt so glad that we had all got throught to the finals. We got our certificates signed, then we all ran & gave our mums & Mrs Patching a hug. What a great day!